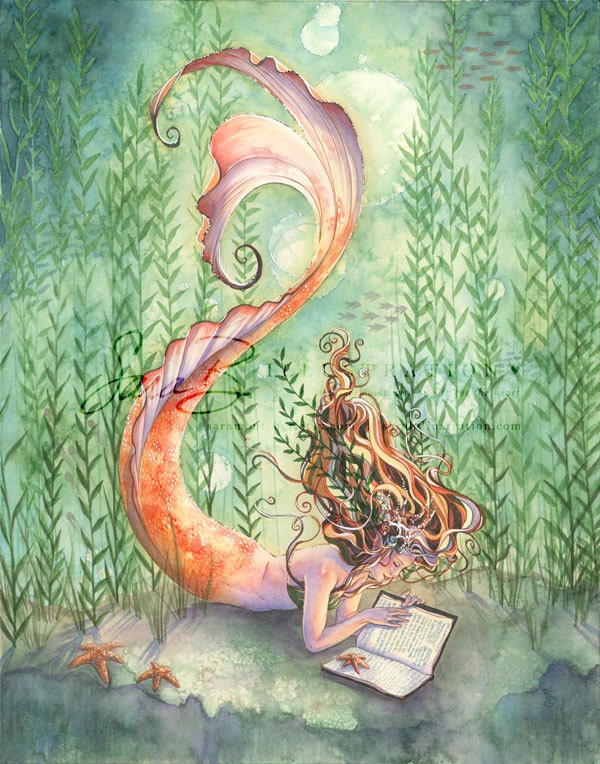 800 Literature, rhetoric & criticism
Climo, Shirley.
Treasury of Mermaids, a / Shirley Climo.
Lavishly designed and illustrated, this beautiful book is the definitive collection of mermaid lore. A catch of international mermaids, from a Japanese ningyo and a Swiss nix to an Irish merrow and an Alaskan nuquot swim through the pages of this elegant volume.
c. Tegen Other, 1997.
ISBN-10:
0060238763
ISBN-13:
978-0060238766
Available on Amazon.com.
Available at Barnes and Noble.
Manning-Sanders, Ruth.
Book of Mermaids, a / Ruth Manning-Sanders.
Stories about mermaids come from almost every country by the sea--from Iceland to India, America to Arabia. In these sixteen stories, Ruth Manning-Sanders captures the quirky personalities of mermaids and mermen, recounting their marvelous schemes and adventures with a master story-teller's eye for detail. This beloved and classic work, with stunning illustrations by Robin Jacques, has been out of print for decades. All fans of mermaid lore will celebrate this new, affordable paperback edition.
c. E.P. Dutton, 1970
ISBN-10:

052526941X

ISBN-13:

978-0525269410
Available on Amazon.com.
Napoli, Donna Jo, 1948-
Single Pearl, a / Donna Jo Napoli; illustrated by Jim LaMarche. - First edition.
In a vast ocean, a single grain of sand seems hopelessly small and unimportant. But over time, the sand begins to change. Layer by layer, it grows and transforms. Its beauty starts to shine. Exquisitely crafted by an award-winning author-illustrator team, this luminous, uplifting story reminds us of the amazing capacity for change within us all.
c. Hyperion, an imprint of Disney Book Group, 2013.
ISBN: 978-1-4231-4557-8
ISBN: 1-4231-4557-7
[1. Sand -- Fiction. 2. Pearls -- Fiction. 3. Metamorphosis -- Fiction.] I. LaMarche, Jim, illustrator. II. Title.
PZ7.N15Shr 2013
[E] -- dc23
Available at Chapters/Indigo.
810 American literature in English
820 English & Old English literatures
830 German & related literatures
840 French & related literatures
850 Italian, Romanian, & related literatures
860 Spanish, Portuguese, Galician literatures
870 Latin & Italic literatures
880 Classical & modern Greek literatures
890 Other literatures